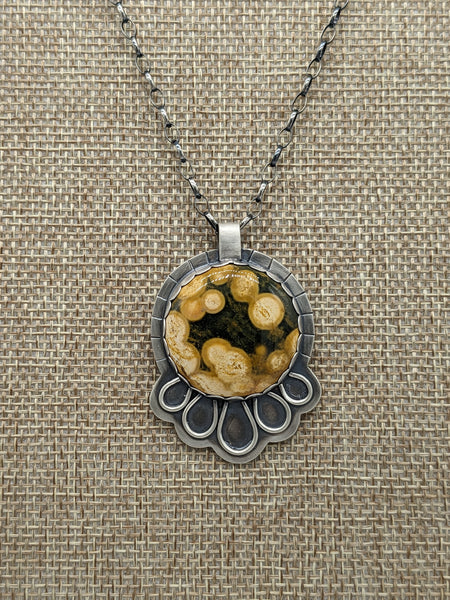 Ocean Jasper Necklace
This natural Ocean Jasper Pendant features a stunning round picture jasper stone, creating a one-of-a-kind accessory. Crafted with a hand forged clasp, this necklace is perfect for everyday wear. The yellow-green "jellyfish" pendant exudes an earthy, natural beauty, making it a must-have for lovers of natural jewelry.
How is this handcrafted?
Ashley Wix begins her work with raw sheets of silver, fine silver wire, and precious gemstones. Each piece of jewelry has up to six stages of crafting. From the original concept to setting and soldering the bezel and backplate to the many layers of sawing, filing and polishing, Ashley Wix works with integrity and dedication, taking attention to detail to an art form.
JEWELRY DETAILS: 
Handcrafted from 95% sterling silver
Ocean Jasper stone
hand hammer clasp
16" sterling silver chain
designed to last forever
shippable 
---