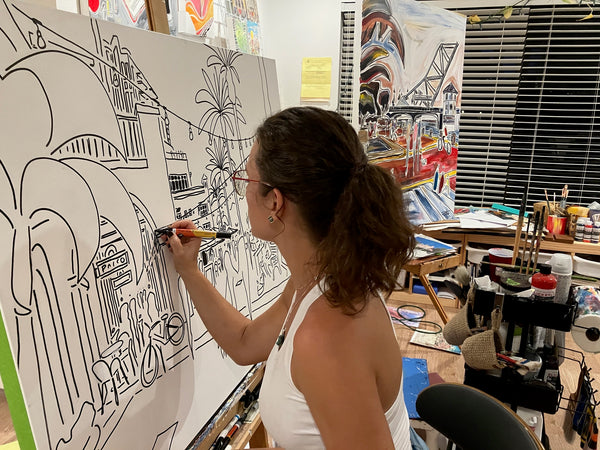 Custom Cities with Patricia Kluwe Derderian
Let Patricia Paint Your Favorite City

Architect turned artist, Patricia Kluwe Derderian loves to paint cities. In this City Series, she paints places she loves, or in the case of a commission, places YOU love.
When you work with Patricia, she will discuss colors, the city, the perspective you would like. She will even add your favorite spot... even if it's not in that exact location!
You Deserve it!
Treat yourself to a custom painting by Patricia Kluwe Derderian. The art and the collaboration will make for an unforgettable experience and a new art friendship.
How Does It Work?
Let us know what size you want and what city you are considering. We will draw up a proposal for you. If you like what you see, a 50% deposit will begin the process. Once the deposit is received, you and Patricia will work together. Commissions take 4-8 weeks to complete, depending on the artists' & client's schedule.
Painting Details:
You select the perfect size for your home
You will receive a proposal explaining the complete process
Once a contract is signed and deposit received, it's officially underway
Commission costs are broken into easy payments
Patricia will do a sketch before putting paint to canvas
Process images will be shared
Patricia will show you the final painting before delivery/pickup at the Gallery
All canvases are gallery wrapped and wired to hang easily
A UV protection is applied to the painting
 Shipping is available for an additional cost