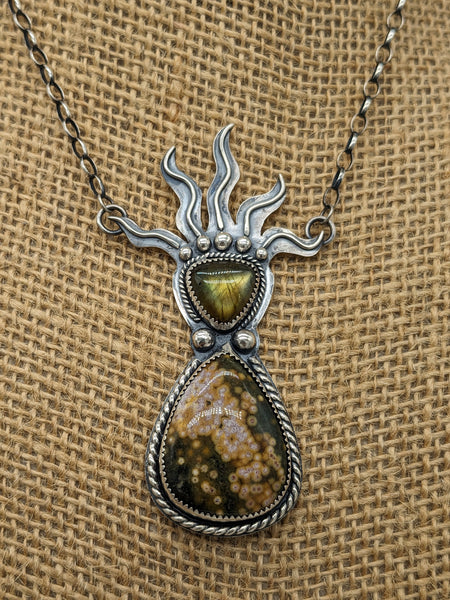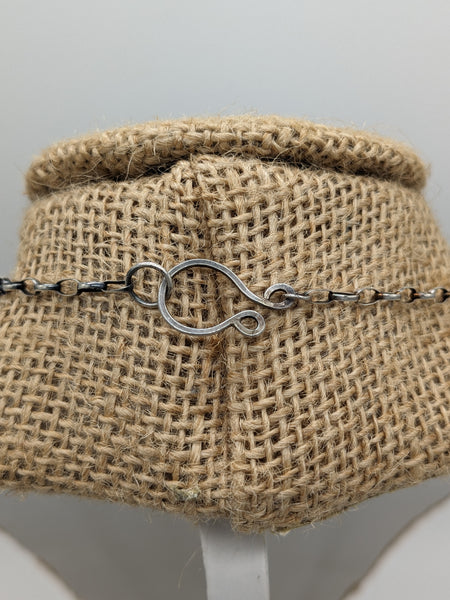 Kali ~ Crone Necklace
Harness the power of the Crone, an ancient symbol of strength & wisdom, with this stunning necklace. Handcrafted from sterling & fine silver, the intricate Kali Crone Pendant is set with a green trillion labradite & ocean jasper. Own the power of the Crone & daringly adorn yourself with this magnificent 18" necklace. Dare to be powerful.
How is this handcrafted?
Ashley Wix begins her work with raw sheets of silver, fine silver wire, and precious gemstones. Each piece of jewelry has up to six stages of crafting. From the original concept to setting and soldering the bezel and backplate to the many layers of sawing, filing and polishing, Ashley Wix works with integrity and dedication, taking attention to detail to an art form.
JEWELRY DETAILS: 
Handcrafted from 95% sterling silver
Green trillion labradite gemstone
Ocean jasper gemstone
18" sterling silver chain with handmade clasp
designed to last forever
shippable